BORSIG Aromatic Recovery Unit
Aromatics (benzene, toluene, xylene etc.) are petrochemical products with the highest emission control priority. Emissions from aromatic products have been identified as carcinogenic and consequently many countries have introduced particularly strict emission limits.The superiority of the BORSIG membrane process and additional unit operations offers the most efficient and reliable solutions for treating aromatic vapour streams and to comply with strict emission levels e.g. of < 1mg benzene/m³.
The Benefits
Additional to the advantages of our standard Vapour Recovery Unit, the BORSIG Aromatic Recovery Unit offers:
Compliance with worldwide emission limits
Flexible and safe treatment of all aromatic product vapours
All process steps designed for longest lifetime stability and efficiency
No aromatic saturation in adsorbent materials such as activated carbon
Safe maintenance - no contamination of process fluids/materials, no expensive disposal
Proven superior technology in many reference installations
PDF-Download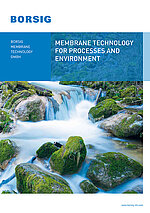 BORSIG Membrane Technology GmbH
Membrane processes are standard processes used either as a substitution or in combination with other process steps in many areas of the chemical, petrochemical, oil and gas industries. BORSIG Membrane Technology GmbH offers modern, intelligent solutions for new and existing processes. Taking the highest safety and quality standards into consideration, our membranes, membrane modules and membrane systems ensure operational safety, maximum efficiency and optimum cost effectiveness.