BORSIG "Linear" Transfer Line Exchanger (Double-pipe design)
The BORSIG "Linear" transfer line exchangers rapidly cool down the cracked gas in ethylene plants.
The patented BORSIG linear quencher (BLQ) consists of a number of linearly arranged double pipe elements of which each is directly coupled to one of the furnace radiant coil outlets.
The process effluent from each single radiant coil is quenched individually in its own double pipe element.
A common down comer header distributes uniformly the circulating boiler water coming from the steam drum to each of the "Turbo flow" inlet chambers. A riser header is collecting the steam/water mixture from the upper outlet chambers.
The picture below shows a typical BLQ arrangement. Other arrangements are possible, even the twin leg concept if the available place in the furnace structure is limited.
The BLQ is a versatile exchanger design with a wide range of optional orientations which fulfills the specific requirements of all engineering contractors active in the design of ethylene furnaces.
This Highlights of the BORSIG Linear Transfer Line Exchanger:
BORSIG Process Heat Exchanger GmbH provides the complete system comprising the design of the BLQ, riser and down comer pipework and steam drum, i.e. the complete quench system.
BORSIG Process Heat Exchanger GmbH has provided about 5,000 Transfer Line Exchangers of this type with total more than 21,000 double pipes since 1990 to all parts of the world. All engineering companies and contractors which are active in the field of ethylene plants have already installed BORSIG linear quenchers.
Closely and directly coupled to each radiant coil outlet.
Eliminates wye, tri or tetra fittings in the cracking furnace.
No hot tube sheet: no fouling, no erosion.
Low volume of BLQ gas side: low residence time.
Low overall pressure drop.
No off-line decoking but online decoking.
Up-flow or down-flow arrangement.
Single leg or twin leg design.
Compact and modular design.
Individual exchangers.
No restriction in quench pipe diameter.
Three refractory gas inlet heads: no steam purge required.
"Turbo flow" chamber design.
One common water and one common steam header per BLQ module.
Ease of maintenance.
PDF-Download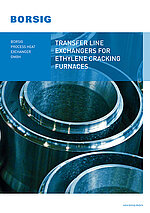 Spaltgaskühler
Ethylene is the basic product for the fabrication of plastics. Ethylene (C2H4) and some other byproducts like propylene are produced by thermal cracking of hydrocarbons in pyrolysis furnaces in the presence of steam. Predominantly ethane, naphtha and other mineral oil fractions are used as feedstocks.