BORSIG Ethylene Recovery Unit for EO/EG Production
The BORSIG Ethylene Recovery Unit enables the recovery of valuable ethylene monomer from the cycle gas purge. Typically the purge gas first enters an inlet filter in order to remove droplets before entering the hydrocarbon-selective membrane stage. In the membrane stage ethylene is separated from argon and nitrogen. The ethylene-rich stream is routed to the suction side of the reclaim gas compressor whereas the ethylene-depleted stream is routed to the boiler unit.
PDF-Download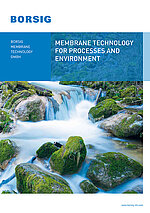 BORSIG Membrane Technology GmbH
Membrane processes are standard processes used either as a substitution or in combination with other process steps in many areas of the chemical, petrochemical, oil and gas industries. BORSIG Membrane Technology GmbH offers modern, intelligent solutions for new and existing processes. Taking the highest safety and quality standards into consideration, our membranes, membrane modules and membrane systems ensure operational safety, maximum efficiency and optimum cost effectiveness.