Membrane Technology Service
We , the service team of BORSIG Membrane Technology GmbH, offer our customers in the oil and gas, refinery, tank farm and petrochemical industries a complete service package or individual services, so that you can fully focus on your core competence.
Our service team is trained according to SCC and VCA and consists of seasoned engineers and technicians who are in charge of plants and installations worldwide. Thanks to our many years of experience in servicing industrial plants and the required multidisciplinary competence in process engineering, plant design, control and instrumentation, as well as explosion protection, we know what matters.
We offer you reliability, economic efficiency and protection for your assets. We can perform or co-ordinate all services ourselves and are hence capable of making optimum use of synergies. The basic requirement for optimum plant efficiency and to avoid non-scheduled downtime is regular inspection and the check of all functions and installation parts subject to wear by competent experts. Innovative measuring and analysis methods help to avoid failures and breakdowns. Using software-supported systems for maintenance and service scheduling, we develop with you specific strategies for your particular application in order to establish perfectly timed and cost saving maintenance and service intervals. These made-to-measure concepts ensure that plant availability and productivity increase, environmental burdens become fewer, and maintenance costs drop significantly.
We offer you
Process development and optimisation
Basic- and detail engineering
Process control and visualisation
Operator training
After-sales-services, maintenance and trouble-shooting
Maintenance and trouble-shooting of third-party vapour recovery units
Plant-specific maintenance contracts and spare-parts management
Standby service and remote-service for software updates and trouble-analyses
Process optimisation of existing plants and systems
Hazard and operability studies (HAZOP) of BORSIG and third-party VRUs and other plants and systems, IPF analysis
Pressure vessel tests in co-operation with responsible authorities
Performance tests of BORSIG and third-party plants and systems, including gas and emission- and capacity measurement, gas analyses
Emission reports for refineries and tank farms
PDF-Download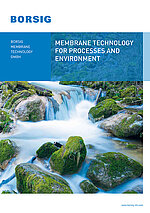 BORSIG Membrane Technology GmbH
Membrane processes are standard processes used either as a substitution or in combination with other process steps in many areas of the chemical, petrochemical, oil and gas industries. BORSIG Membrane Technology GmbH offers modern, intelligent solutions for new and existing processes. Taking the highest safety and quality standards into consideration, our membranes, membrane modules and membrane systems ensure operational safety, maximum efficiency and optimum cost effectiveness.