Upgrading of third-party scraped surface exchangers
Experience has shown that scraped surface exchangers in old existing plants give frequent trouble, thus resulting in un- scheduled outage and high maintenance costs. The cause of the trouble is in most cases the fact that the drive system and the scraper shafts are worn down and/or the design itself does not have the required levels of reliability and ruggedness for the application involved.
BORSIG can solve these problems by supplying complete drive systems including new scraper shafts which fit exactly into existing scraped surface exchangers of various manufacturers thus adapting them to the BORSIG design. With this adaption to our well proven and patented drive and scraper shaft system our customer will be capable of considerably improving the mechanically reliability as well as reducing the maintenance costs.
Below are some typical problems with old scraped surface exchangers:
The scraper shafts
Reduced heat transfer
Broken springs and/or scraper blades
Wear of plain bearings
The drive
Frequent ruptures of shear pins
Severe wear of the chain wheels
Damage to the bearings
Ruptured drive shafts
Severe leakage of the drive shaft sealing system
PDF-Download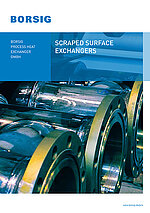 BORSIG Process Heat Exchanger - Scraped Surface Exchangers
BORSIG Process Heat Exchanger GmbH, a member of the BORSIG Group, is the international leading manufacturer of pressure vessels and heat exchangers for cooling gases at very high temperatures (up to 1,500 °C) and high pressure (up to 35,000 kPa) for the chemical and petrochemical industries. These pressure vessels and heat exchangers are used for process stages in plants for the production of basic chemicals where they are installed directly at the downstream end of the cracking furnaces and/or reactors.