BORSIG Hydrogen Separation
BORSIG Hydrogen Separation technology provides efficient and compact process packages based on highly selective hydrogen membranes. Tailor-made process solutions offer significant savings in hydrogen management for refineries and production plants.
Applications
The BORSIG Membrane Technology offers attractive process solutions for separation, purification and recovery of hydrogen from refinery process or off-gas streams. Potential applications cover a variety of refinery processes with a wide range of compositions and operating conditions. Typical hydrogen separation applications are for instance:
Hydrogen recovery / purification from refinery off-gas e.g. hydrocracking, catalytic reforming, hydro-treating etc.
Hydrogen recovery from purge gas, e.g. from ammonia production processes
Syngas H2 / CO-ratio adjustment
The benefits
High hydrogen recovery
High equipment reliability and on-stream availability
Non-alternating process flows
Compact, pre-assembled process units
Retrofit for existing facilities
PDF-Download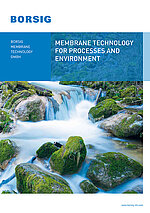 BORSIG Membrane Technology GmbH
Membrane processes are standard processes used either as a substitution or in combination with other process steps in many areas of the chemical, petrochemical, oil and gas industries. BORSIG Membrane Technology GmbH offers modern, intelligent solutions for new and existing processes. Taking the highest safety and quality standards into consideration, our membranes, membrane modules and membrane systems ensure operational safety, maximum efficiency and optimum cost effectiveness.