Scraped surface exchangers
BORSIG Process Heat Exchanger GmbH has been producing scraped surface exchangers for more than 90 years.
Modern design, orientated towards practical application, state-of-the-art manufacturing and testing methods and the staff's expertise add up to a high-quality scraped surface exchanger that fulfils all requirements in terms of stability, operating reliability and long service life.
Scraped surface exchangers are supplied almost exclusively as compact units, so that installation work on site is reduced to a minimum.
Applications of the BORSIG scraped surface exchangers include de-waxing of lube oil, the oil separation from waxes, the production of cellulose acetate flakes, the manufacture of fatty acids, the crystallization of paraxylene, the continuous mixing of liquid and semi-solid products under cooling or heating conditions, heat transfer in the presence of strong product contamination of transfer surfaces as well as heat transfer with high-viscosity products.
The BORSIG scraped surface exchangers are designed and built for an optimum solution with regard to the intended application. For solving these problems BORSIG disposes of a modern data processing center. We are always prepared to assist you with our advice, even in the planning stage.
BORSIG Process Heat Exchanger GmbH supplies scraped surface exchangers for any desired throughput and thermal capacity with inside tube diameters of 6 inches, 8 inches, 10 inches and 12 inches.
Design and calculation can be based on the national standards applicable at the place of installation. Due to the special design of our scraped surface exchangers the maintenance intervals could be extended to 50,000 hours. Furthermore, relubrication of the antifriction bearings is not required within this period.
Scraped surface exchangers are provided for outdoor installation and therefore do not require a special building for protection against atmospheric influences.
Scraped surface exchangers with direct evaporation of a refrigerant in the jacket space of the double-pipe elements can be supplied as cascade, thermosyphon or forced circulation systems, permitting the utilization of all types of refrigerants commonly used.
Prior to leaving our works, each scraped surface exchanger is subjected to a mechanical test run at operating pressure.
The instructions required for proper installation, startup, servicing and maintenance are set forth in an operating manual which will be supplied for each scraped surface exchanger.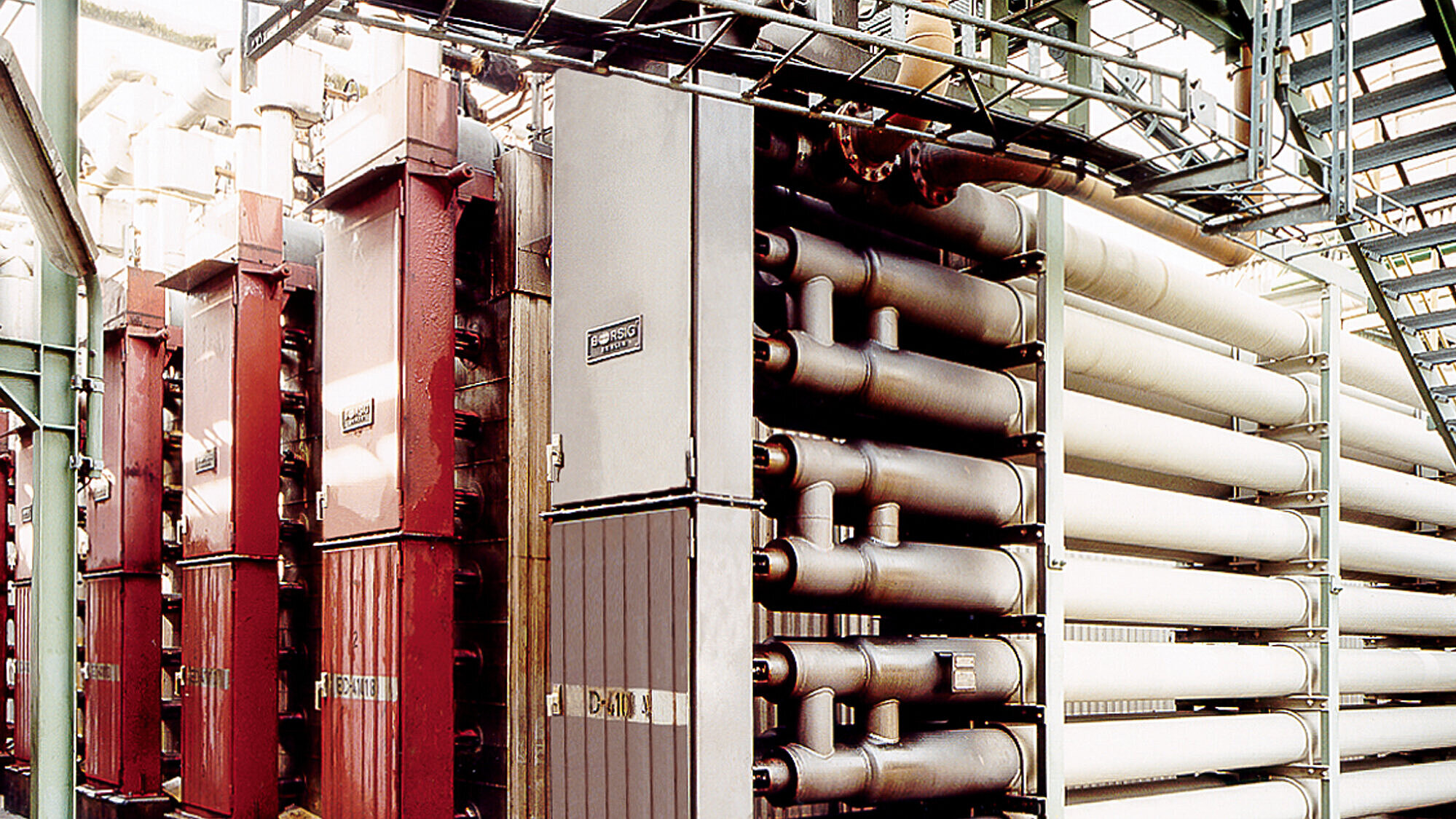 Applications
de-waxing of lube oil
de-oiling of waxes
production of cellulose acetate flakes
manufacture of fatty acids
extraction of paraxylene
extraction of shea butter
continuous mixing of liquid and semi-solid products under cooling or heating
heat transfer when the transfer surface is heavily contaminated by products
heat transfer with high viscosity of the product