BORSIG Carbon Capture
CO2 separation with BORSIG membrane technology
With increasing efforts to minimise CO2 foot print efficient process solutions for CO2 capture and recovery are becoming ever more relevant. The BORSIG membrane technology provides efficient and cost effective solutions for CO2 separation in a wide range of applications.
BMT Products
and Services
Advanced CO2 gas separation membranes providing high selectivity for CO2 separation
Module concepts based on spiral wound or envelope type configurations
Support for client's process development
Support and engineering services for client's test/pilot unit design
Test modules and membrane stages for pilot plants
References
Test Modules and Pilot Plants
Flue gas treatment, Czech Republic - Test Module
Flue gas treatment waste incineration, Japan - Test Module
Operation in cement industry, Latvia - Membrane Stages for pilot plant installation
Advanced high selectivity membrane materials enable process solutions for CO2 enrichment > 90 vol-%
Potential Process Applications
Carbon Capture
CO2 removal from combustion flue gas in power generation and waste incineration
CO2 capture in cement industry
CO2 capture in other industry applications
CO2 separation
Biogas upgrading
Gas conditioning
PDF-Download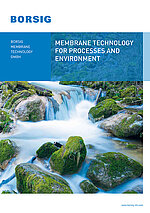 BORSIG Membrane Technology GmbH
Membrane processes are standard processes used either as a substitution or in combination with other process steps in many areas of the chemical, petrochemical, oil and gas industries. BORSIG Membrane Technology GmbH offers modern, intelligent solutions for new and existing processes. Taking the highest safety and quality standards into consideration, our membranes, membrane modules and membrane systems ensure operational safety, maximum efficiency and optimum cost effectiveness.