Service and Spare Parts
The after sales service and technical product support service of BORSIG Process Heat Exchanger GmbH offers a wide range of spare parts and services. On request we offer a complete exchange service for pressure vessels and heat exchangers.
Our main objective is to keep the downtime of your plant to an absolute minimum. Our excellent service team is specialized for jobs like these and works out the shortest process based on a detailed engineering plan.
Our service portfolio for technical support:
Installation planning and construction site supervision for new installations and repairs
Root cause analysis at the location and by remote diagnostics
Technical consultations in case of corrosion problems
Evaluation of boiler operating water
Consultations for preventive maintenance actions
Review of customer procedures before the start of installations (container cleaning, welding, chemical cleaning, non-destructive material tests, brick lining)
Our service portfolio for spare parts includes:
Preparation of spare part offer with technical order processing and delivery for maintenance or for repairs according to your requirements from one source
The delivery of spare parts from other manufacturers (part of the original scope of delivery by BORSIG)
PDF-Download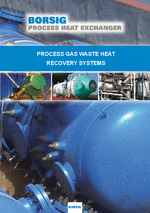 BPHE - Process Gas Waste Heat Recovery Systems
BORSIG Process Heat Exchanger GmbH, a member of the BORSIG Group, is the international leading manufacturer of pressure vessels and heat exchangers for cooling gases at very high temperatures (up to 1,500 °C) and high pressure (up to 35,000 kPa) for the chemical and petrochemical industries. These pressure vessels and heat exchangers are used for process stages in plants for the production of basic chemicals where they are installed directly at the downstream end of the cracking furnaces and/or reactors.