BORSIG Dock Safety Unit
Marine loading installation and marine vapour recovery concepts in particularly require the comprehensive installation of hardware such as loading arms, vapour piping, VRU and additional safety devices. The safety of this application must be safely implemented from the dock to the VRU. Over-filling, over/under pressure protection and fire and explosion protection must be considered. BORSIG Membrane Technology GmbH offers compact, skid-mounted BORSIG Dock Safety Units for various capacities according to the latest safety guidelines. As an integral part of the vapour recovery installation, this unit can be combined with the Vapour Recovery Unit to make a single vapour control system.
The benefits
Safety and operational aspects combined in one compact device
Designed to meet international safety guidelines
Compact skid-mounted design
Easy integration into VRU control system – no extra control system (e.g. by DCS) required
Includes detonation flame arrestor, pressure/temperature control
Vessel overfill protection
PDF-Download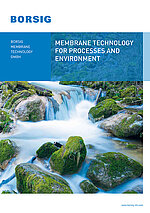 BORSIG Membrane Technology GmbH
Membrane processes are standard processes used either as a substitution or in combination with other process steps in many areas of the chemical, petrochemical, oil and gas industries. BORSIG Membrane Technology GmbH offers modern, intelligent solutions for new and existing processes. Taking the highest safety and quality standards into consideration, our membranes, membrane modules and membrane systems ensure operational safety, maximum efficiency and optimum cost effectiveness.