BORSIG Vent Recovery System
BORSIG Membrane Technology GmbH has developed an innovative, enhanced add-on system which increases the vapour return ratio from the car nozzle to the storage tank for more efficient vapour collection.The BORSIG Vent Recovery System (VRS) consists of a small membrane module and a vacuum pump. The membrane selectively filters hydrocarbon molecules from the air stream passing through the membrane due to the pressure quotient generated by the vacuum pump. The valuable gasoline fraction is returned to the storage tank where the gas phase is saturated and even liquefied once the dew point is reached. The clean air is released to the atmosphere.
The benefits
Reduction of product loss by 95%
Increased safety at car filling stations
Better prospects of obtaining planning permission from authorities and improved neighbourhood acceptance for filling stations
Decrease in odour pollution
Reduced exposure of customers to hydrocarbon vapours while refuelling
Substantial savings related to the yearly gasoline throughput
Improved marketing image of the operator
Elimination of direct stack emissions
Monitoring the seal system efficiency and function
PDF-Download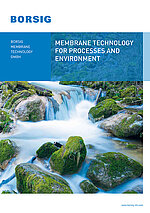 BORSIG Membrane Technology GmbH
Membrane processes are standard processes used either as a substitution or in combination with other process steps in many areas of the chemical, petrochemical, oil and gas industries. BORSIG Membrane Technology GmbH offers modern, intelligent solutions for new and existing processes. Taking the highest safety and quality standards into consideration, our membranes, membrane modules and membrane systems ensure operational safety, maximum efficiency and optimum cost effectiveness.